Manufacturing monitoring system
for the plastics industry
At Clariprod, we specialize in real-time production monitoring for the plastics industry, primarily injection molding machines.
Our 25+ years of expertise in the plastics industry was brought to us by two of our founding members, CFM Robotics and Windmill Plastics. They both specialize in injection molding, but in different expertise. CFM Robotics is a world leader in mobile and agile robotic solutions for the plastic injection molding industry, and Windmill Plastics is an injection molding manufacturer with 30 years of experience. These two companies combined their knowledge with CDID, to create a solution to an unmet need in the plastics industry, brought forward by Windmill Plastics as they were looking for an Industry 4.0 solution.
So, it goes without saying that at Clariprod, we know what's best for your injection molding machine. Our solution is tailor-made for you!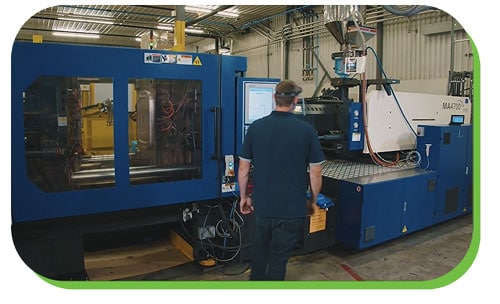 Real-time production monitoring designed
for the plastics industry
We have designed a real-time production monitoring solution tailored to the needs of injection molding manufacturers. Our system is designed to count the parts produced by your machine, by the simple tracking of the electrical signal of mold opening and closing. These signals are monitored by Clariprod each time they occur, which in turn, monitors production, downtime, period of inactivity, and many more performance indicators.
We understand your reality
We understand your reality
At Clariprod, we know performance, speed, and low costs are very important to be competitive in the plastics industry. Therefore, we also know our solution will be beneficial for your business. By experience, we noticed that optimizing your production is very important to get the most out of your current shop floor and to grow your business. But it's also about being competitive with other companies in the plastics industry. Companies that embrace Industry 4.0 will have a major competitive advantage very soon.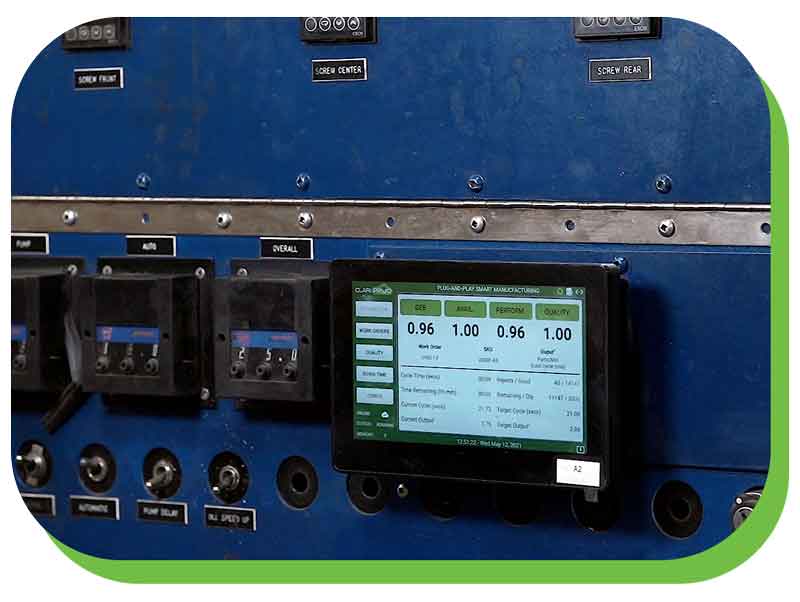 Compatibility with
injection molding, extrusion, and CNC machines
Clariprod is compatible with any injection molding machine, regardless of the age or the brand of the machine.
Also, since our system is designed to count produced parts and has several connection options,
it is also perfectly compatible with any extrusion and CNC machine.
If you want to learn more about the compatibility of Clariprod on your machines, contact us.
Robotics

in the plastics industry
Plastic Industry machines and robots form a powerful duo. They complement each other perfectly in an automated factory. But to get the most out of this duo, you need to monitor their productivity in real-time with a production monitoring system.
Clariprod is compatible with any robot used in the plastics industry and is made to suit your specific needs. You can track the same metrics on your robot as on your machine, allowing you to get the best efficiency out of all your automated equipment.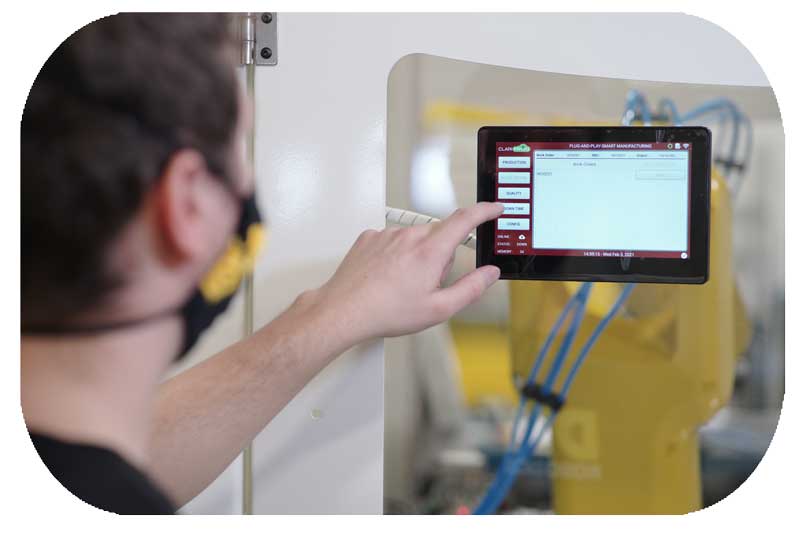 Here is an exemple of a Clariprod controller on a
robotic cell
Interested to learn if Clariprod could be
beneficial

for your business?
Discover other
interesting subjects

about real-time production monitoring
Almost every manufacturing environment relies on current or historical production data to operate. The usage of this data allows manufacturers to make decisions that account for budgets, cost-effectiveness, OEE, etc. Without utilizing this info, a company can see tremendous losses since there may be improvements or errors not being noticed. Therefore, easily acquiring and analyzing production data is essential throughout the manufacturing process. By integrating Production Monitoring and using Display Boards, full visibility of shop floor productions is possible. Centralization allows for easy access and analytics of important data.
To maintain the livelihood of a company, it would beis ideal to reduce expenses wherever possible. Manufacturing costs provide an excellent start for industries to focus on. It is often difficult to find solutions to reducing manufacturing costs without removing essential procedures or labourers (robots & humans). Thankfully, with Production Monitoring, reducing manufacturing costs is an easier task.
It is no secret that technology has a direct impact on how industries operate. The application of new technologies is making the process of manufacturing increasingly dynamic and efficient. Industries from around the world are evolving their workspaces through new technologies and automation to be on track with Industry 4.0. One option available is to incorporate smart manufacturing into a production floor.